Allesley Park walled Garden
It's Time For You To Visit Your Heritage Garden
Community Heritage Garden
Allesley Park Walled Garden Group was formed in 1997 to recreate a kitchen garden as it might have looked 235 years ago when John Neale, Lord of the Manor and owner of Allesley Hall started to grow his own vegetables, fruit and flowers,
Currently, half of the one and a half acre site has been replanted with vegetable beds, flower borders, medicinal and culinary herbs along with an orchard of more than thirty fruit trees.
The site is run as a community garden with a strong emphasis on education, heritage and chemical-free vegetable production. Donations and new members allow for other areas of the garden to be developed, including a rose and a prairie garden to complement the existing kitchen garden created by the Allesley Park Walled Garden Group.
Other features include a bug hotel, a wigwam for children and a wormery that produces much needed high-quality compost and fertiliser.
Our most recent addions to the garden include a pavilion and terrace that will provide facilities for children's activities, horticultural training, exhibition space and occasional meetings. It may also serve as a visitor centre when gardeners are working.
---
Read our latest news from Allesley Park Walled Garden.
From sewing season till harvest, keep up to date about our committee, the Pavilion exhibitions, our monthly markets and much more. Stay informed about how we manage the orchard and how you can grow your horticultural knowledge too. Click to discover more in our Walled Garden.
Who are the Allesley Park Walled Garden Group?
Allesley Park Walled Garden Group, maintains the heritage garden, is a registered charity organisation, and is in partnership with Coventry City Council, Allesley Park Community Centre and Friends in Allesley Park. The voluntary group nurtures the community garden, runs activities and talks for visitors and acts as an educational resource. A garden market is held on the third Saturday of every month (Mar-Oct) selling vegetables, plants, homemade cakes, jams and refreshments.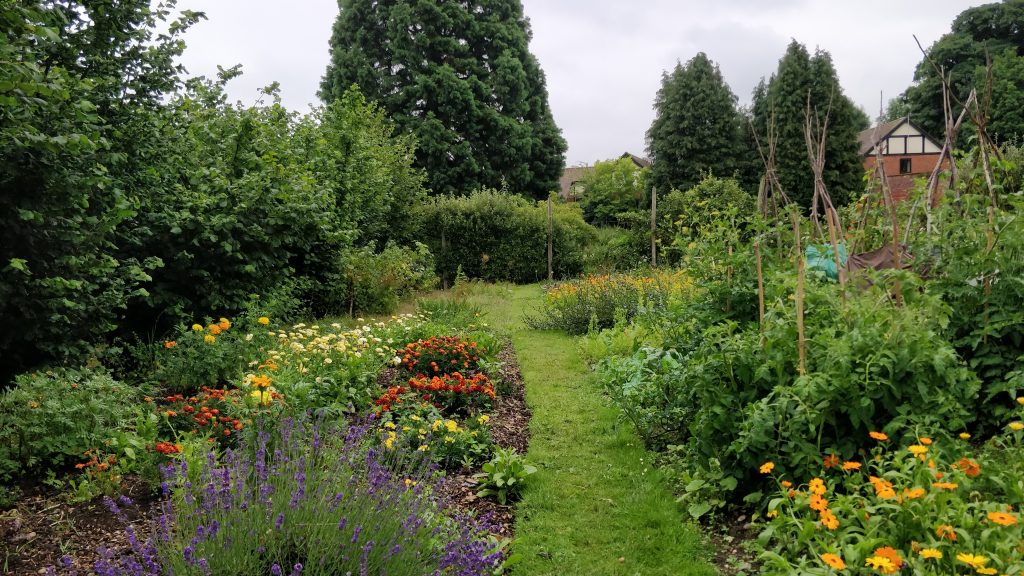 ---
Meet the volunteer team
The garden is maintained by friendly, dedicated members who normally work at the garden on Saturdays.
Our team are all from different backgrounds but share the same ethos for maintaining a horticulture garden as chemical-free and are willing to share our organic experiences and skills with you. All are welcome to visit and chat with us.
We are zero tolerant towards any physical and mental abuse and have a child protection and safeguarding policy with all our events and activities.
Our responsibility
---
Design & Planting
Our core members set draft designs and sow the seeds for the garden at the beginning of each year for the members to maintain weed-free plots, ready to transplant all the seedlings in the spring.
Garden Care​
The garden is cared for via an organic, chemical-free approach, avoiding the use of weedkiller in our community garden. In terms of saving water, a 1000 LITRE IBC (INTERMEDIATE BULK CONTAINER)has been installed to collect rainwater for use in our garden along with three compost bins and a wormery, used for mulch.
We welcome all visitors to visit the child-friendly environment and refurbished wheelchair access for you and your family.
our funding
Our major funding comes from our membership fees and donations, such as public donations, young plants donations, speech events, monthly markets, tree adoptions and our produce donation during and after harvest season.
In order to keep our heritage garden well organised and maintained, your contribution and donations are much welcome.
Your contribution can make our community walled garden proud
---
become our member/helper/tree adoptees
We are a registered charity and are in partnership with Coventry City Council. We welcome everyone interested in horticulture, and who are willing to give their spare time to join our group. Your membership, donations, and money from our fundraising events form the core of our garden funds.
Engage with our events/activities
Without your engagement with our group, the events, including a monthly market that is held from May-Oct, our horticulture speech event and activities associated with community service, would not be successful.
The monthly market is the most popular event which involves children's activities, crafts, books, plants, hot food from our produce and refreshments. Your participation in these events and activities are making our group proud of the achievements made.

bring your meeting/activity to our visiting centre
Trying to book a suitable venue for meeting/ arranging activities? Our newly innovative eco friendly built Pavilion is your solution.
Just bring along your participants and we will provide an excellent garden, self-maintained energy from our solar panel and a nature-rich facility for you to enjoy.
Some of Our
Recent Projects
Visit us and find out all the features in the heritage garden and participate our events, markets, activities and projects.