News
Allesley Park Walled Garden
Latest News
Coronation Celebration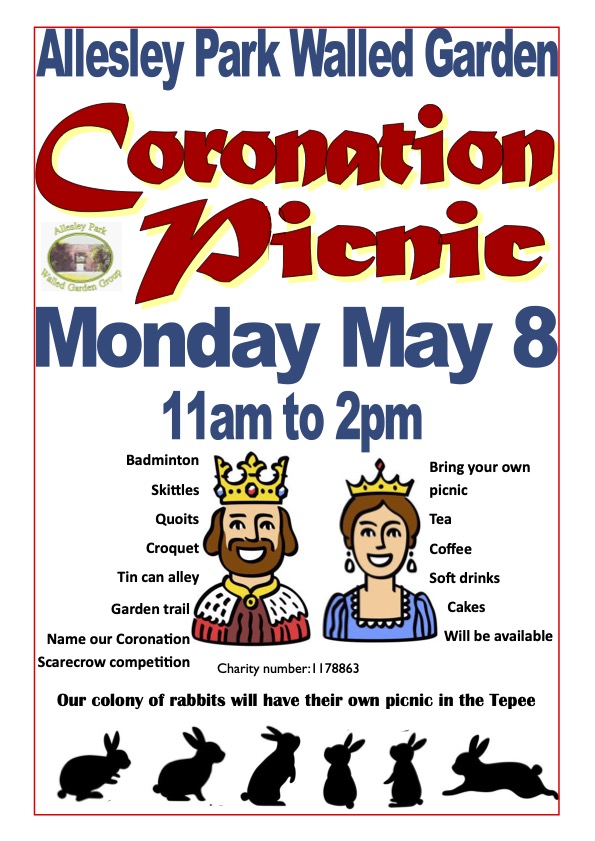 Walled Garden is glad to hold a coronation celebration from 11.00 am till 2.00 pm on Monday 8th May. Bring your family, friends and your own picnics.
If you run out of your picnic sandwiches, there will be many refreshment stalls with tea, coffee, squash & cakes. We will provide plenty of outdoor games for your family and friends to enjoy such as traditional garden games, a garden trail for the kids and a name scarecrow competition. Everyone is welcome.
AGM Meeting
AGM meeting will be at 11.00 am on Saturday 13th May in the Pavilion at the Walled Garden.
Blossom Watch Week
Blossom Watch Week is from the 24th – the 30th of April. There will have guided tours at 10 am, 11 am and 12 pm at Walled Garden on the 29th. Looking forward to seeing you at the Walled Garden.
Remember to visit the Walled Garden when you visit Allesley Park next time. Did you know Tulips are a symbol of perfect love? It has been loved by many for centuries. April is the best time to see their display as they start blossoming here at the Walled Garden. Bring along your family, loved ones and friends to enjoy the Tulip fever.
Merry Christmas and Happy New Year to you all.
Tree Adoption
The Walled Garden Group introduce a new lifetime tree adoption sponsorship only for £10. You can choose one of your favourite trees in the orchard and pay annually or as a lifetime sponsor. The details of the tree's name and location are provided for your reference. Just pop in and ask one of our members to get the information. Contact one of our members to discuss your choice, once you have decided to join. Confirmation of joining the tree adoption and further information about the orchard will be sent to you through emails.
Scythe
Thank you for attending our scythe event. We hope you enjoy it as much as we did. Can you imagine we have had an amazing visitor who is in her 90s?
Scythe demonstration
The Walled Garden are glad to introduce the public to how to use a Scythe in your garden from 9 am to 12 pm on Wednesday 27th July.
Our member Mr Tim Claye is glad to demonstrate how to use a scythe properly to cut grass and will be happy to answer all the questions about using the scythe and the aftercare.
Everyone is welcome.
Education project – School Visits
We are glad to be involved with three primary schools as part of their curriculum. The pupils who visited the Walled Garden were enjoying sowing seeds, guided tours in orchards, composting sites, wormery and vegetable patches with our volunteers. They showed enthusiasm about learning all the aspects. One of the schools also paid another visit for the harvest. We were also enjoying the hosting and interaction with them.
Harvest
Most of our seedlings have been planted in the Walled Garden. We are glad to announce that we start harvesting our produce this month. All the produce is displayed on the shelf by the gate on Tuesdays, Thursdays and Saturdays. Welcome to visit us and enjoy the historical community garden. Your donation is welcome.
We are delighted to announce that our local artist, Wendy, is going to hold the 2nd watercolours exhibition at the Pavilion in Allesley Park Walled Garden. The exhibition starts from 10 am to 4 pm on Saturday and Sunday, June 25-26th. Free admission and refreshments are provided.
New Marquee at the Terrace
Our marquee tent had been worn out which turned into a problem for us to avoid the rain. A new tent was finally been replaced in April. Thanks to all the volunteers who helped to assemble the tent.
Our annual Wassailing event proved as popular as usual in our community. There was a good turnout at the 1st event this year. Thanks to all the participants who came and celebrated with us.
As the winter approaches, we are tidying up the garden and planning our produce for next year. We are still open and hope you keep warm and well this winter. Our next event will be the Wesseling which we will be organising in early January next year. Please keep checking our events menu at top of the page to get the up-to-date information. Hope to see you soon.
Most of our scarecrows are currently in hibernation during the winter. They will come back in the spring.
The Apple Day Event had a marvellous turnout. Thank you to all the visitors and participants of the event. We all had a lovely time and enjoyed it.
Raffle prizes:
Winning raffle numbers were: 589 – Pumpkin flower arrangement, 576 – exercise mat & bag, 577 – selection of jams in a basket, 585 – alarm clock & children's activity set. All prizes were claimed and delivered.
Allesley Park Walled Garden Group has a newly elected chairman from Aug. Mrs Nina Kennedy has taken over from our former Chairman Mr Keith Draper. We thank Mr Draper for his 16 years of dedication and professional horticultural knowledge to the Walled Garden Group. We will all miss him. Best wishes to him and his family. Mrs Kennedy who specialises in crafts (most crafts in the Walled Garden came from her excellent skill), and flower arrangements, is an experienced voluntary tour guide and has a successful business background. We expect that the Walled Garden Group will flourish within the community and strengthen horticulture maintenance under her leadership.
Carly Canavan, a young lady photographer, would like to share with you the beautiful poppy field in our Walled Garden.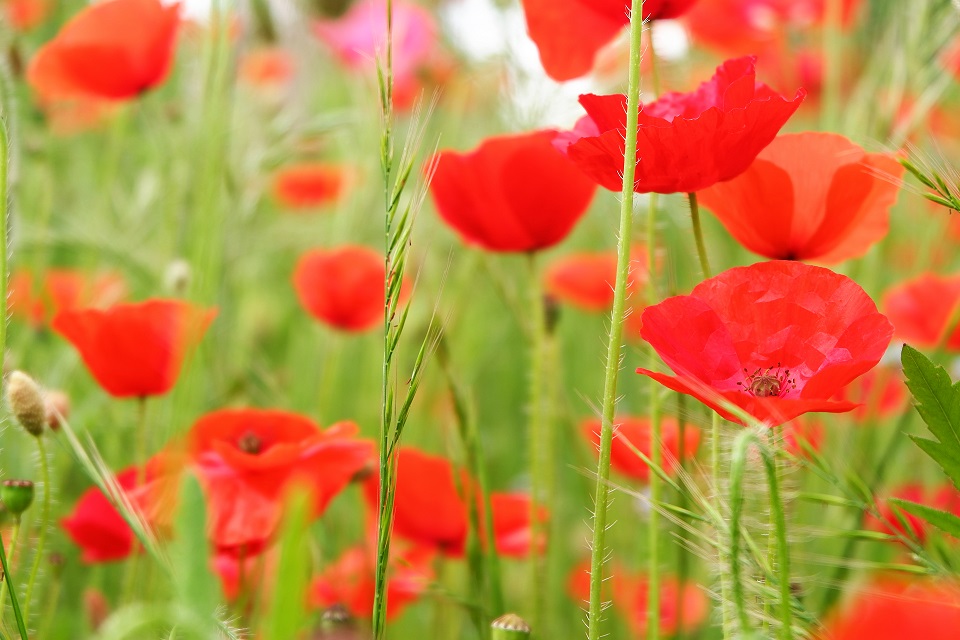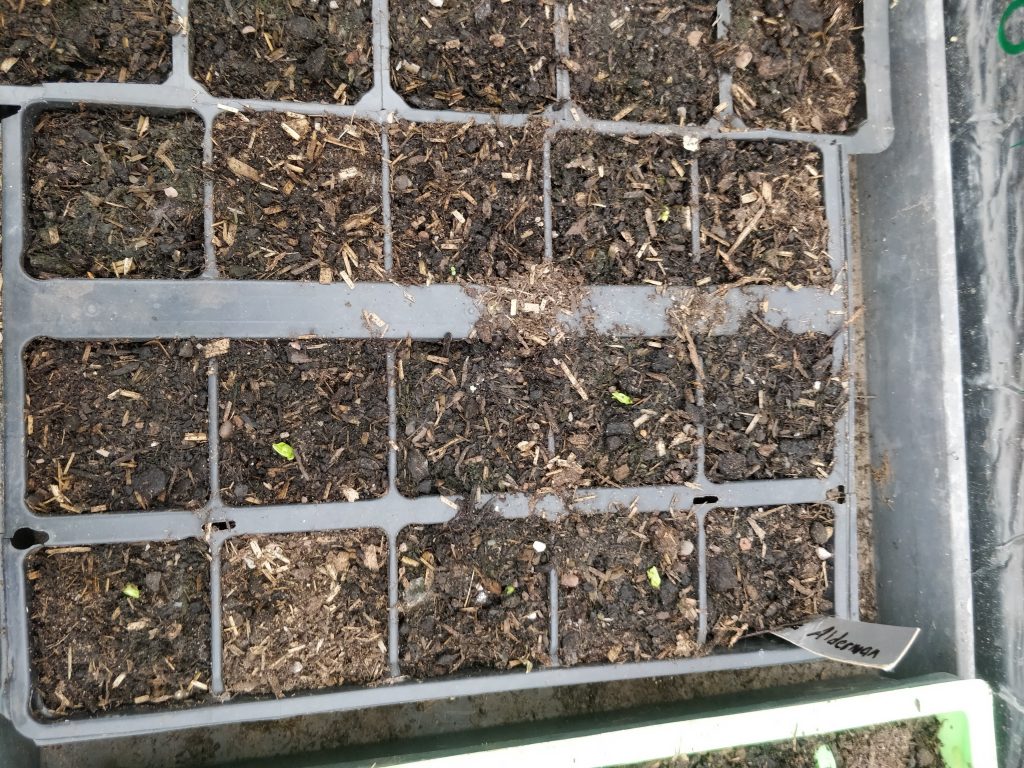 Sowing season
Our spring sowing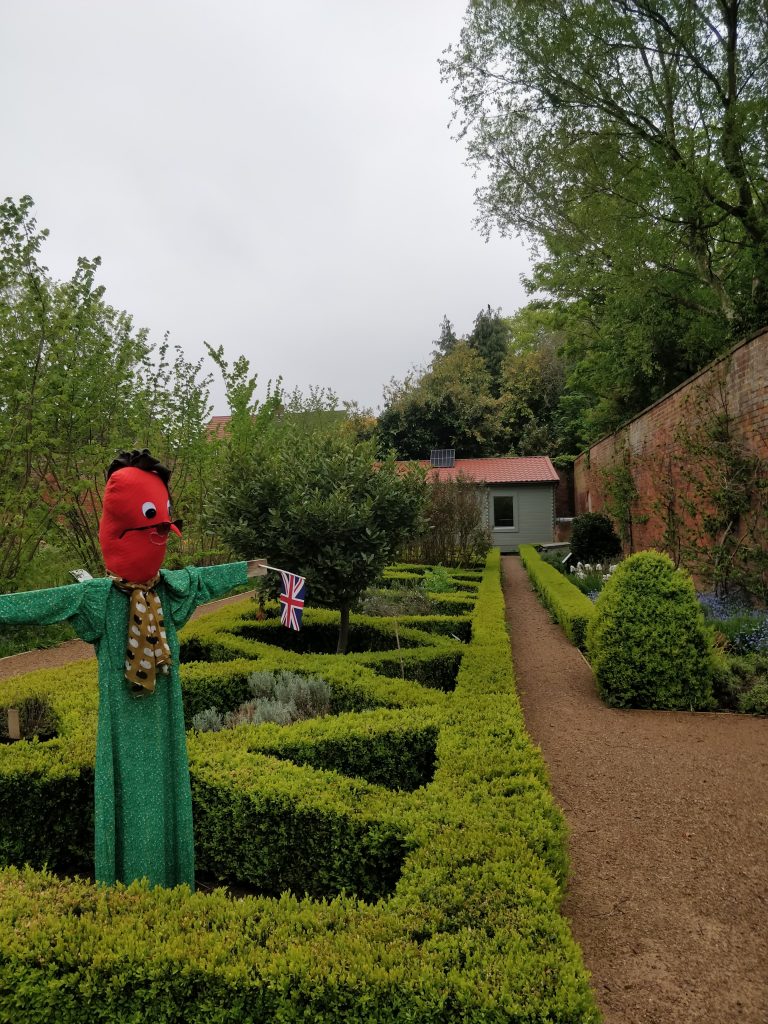 Scarecrow Theme
Great crafts from our member's effort
We have updated some spectacular features in the children play area. Don't forget to bring your youngsters to visit their favourite spot.
Bug Hotel and Wormery
Greens donated by Allesley Hall Nursing Home.
The wormery providing top quality compost and liquid fertiliser.
Forthcoming market
Visit our monthly market, buying your favourite books, plants, and crafts, join activities with your children, and play games. Don't forget to taste our freshly cooked hot meals made from our produce including cakes and drinks. They are highly recommended and sell very quickly so don't miss out. All the markets are currently suspended until further notice, due to Covid-19.
Heritage week
Withdrawal due to Covid-19
Harvest season
Some of our produces have been harvested and been displayed on the shelf by the entrance gate. Welcome to visit the Walled Garden and choose your favourite vegetables and plants. Any donations will be greatly appreciated.