News
Allesley Park Walled Garden
Latest News
Allesley Park Walled Garden Group hope you all have had a lovely summer break. The famous Coventry Local Heritage Week is approaching. We are arranging an event for you and your loved ones and it's called Heritage Meets Pollinators from 10 am to 4 pm on 9th September. Plenty of wildflowers, bees, moths, and flies for you to explore in the Walled Garden. The valuable information of the historic house, park and walled garden are also displaying in our Pavilion.
Welcome to see you all at the event.
Thank you for attending the Walled Garden Picnic Event. I hope you all had a lovely time with your loved ones. It was so great to have our MP Miss Taiwo Owatemi with us at the event to support our activities. The winners of the naming scarecrows competition have been contacted directly by our chairman Mrs. Nina Kennedy. Hope to see you all at our September event.
Employee Volunteer Project
Employee Volunteer project with the energy company, Shell, which is helping the Walled Garden with scything, orchard maintenance and weeding at our vegetable garden on the day. All the volunteers were working hard and we all enjoyed the day of having the group with us. Thank you for all of you attending.
Walled Garden in summer
Local artist Wendy's art show is back at Pavilion between 10 am to 4 pm on Saturday and Sunday, June 10-11.
Everyone is welcome.
Coronation Celebration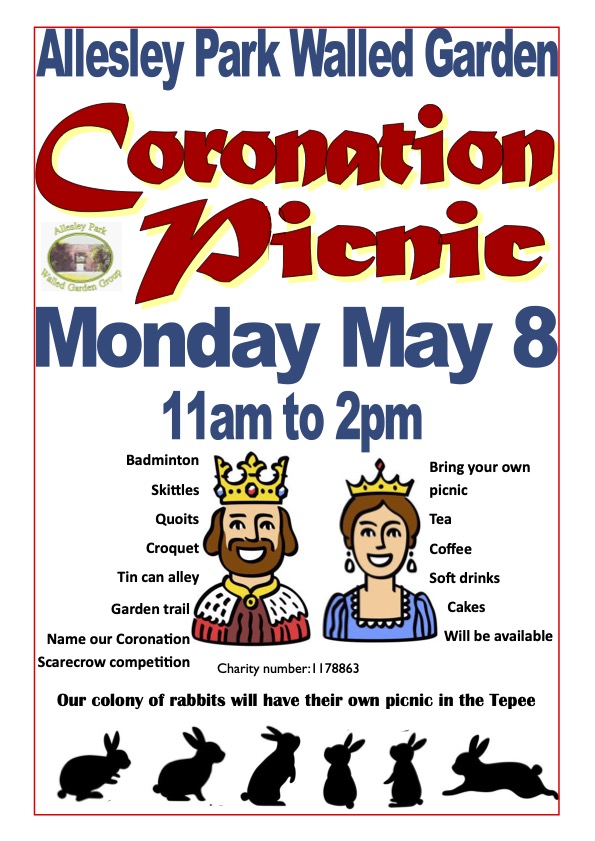 Walled Garden is glad to hold a coronation celebration from 11.00 am till 2.00 pm on Monday 8th May. Bring your family, friends and your own picnics.
If you run out of your picnic sandwiches, there will be many refreshment stalls with tea, coffee, squash & cakes. We will provide plenty of outdoor games for your family and friends to enjoy such as traditional garden games, a garden trail for the kids and a name scarecrow competition. Everyone is welcome.
AGM Meeting
AGM meeting will be at 11.00 am on Saturday 13th May in the Pavilion at the Walled Garden.
Blossom Watch Week
Blossom Watch Week is from the 24th – the 30th of April. There will have guided tours at 10 am, 11 am and 12 pm at Walled Garden on the 29th. Looking forward to seeing you at the Walled Garden.
Remember to visit the Walled Garden when you visit Allesley Park next time. Did you know Tulips are a symbol of perfect love? It has been loved by many for centuries. April is the best time to see their display as they start blossoming here at the Walled Garden. Bring along your family, loved ones and friends to enjoy the Tulip fever.
Tree Adoption
The Walled Garden Group introduce a new lifetime tree adoption sponsorship only for £10. You can choose one of your favourite trees in the orchard and pay annually or as a lifetime sponsor. The details of the tree's name and location are provided for your reference. Just pop in and ask one of our members to get the information. Contact one of our members to discuss your choice, once you have decided to join. Confirmation of joining the tree adoption and further information about the orchard will be sent to you through emails.
Scythe
Thank you for attending our scythe event. We hope you enjoy it as much as we did. Can you imagine we have had an amazing visitor who is in her 90s?
Education project – School Visits
We are glad to be involved with a primary school as part of their curriculum. The pupils who visited the Walled Garden were enjoying sowing seeds, and guided tours with our volunteers. They showed enthusiasm about learning all the aspects. The school would also pay another visit for the harvest in July. We were also enjoying the hosting and interaction with them.
Harvest
Most of our seedlings have been planted in the Walled Garden. We are glad to announce that we start harvesting our produce this month. All the produce is displayed on the shelf by the gate on Tuesdays, Thursdays and Saturdays. Welcome to visit us and enjoy the historical community garden. Your donation is welcome.
New Marquee at the Terrace
Our marquee tent had been worn out which turned into a problem for us to avoid the rain. A new tent was finally been replaced in April. Thanks to all the volunteers who helped to assemble the tent.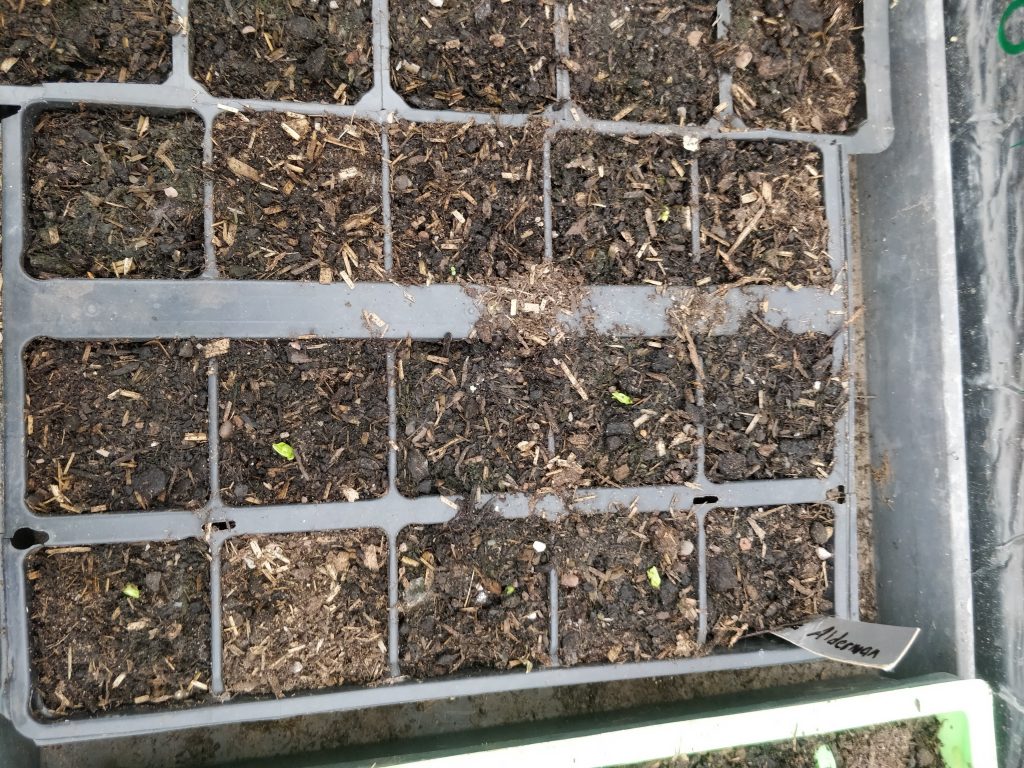 Sowing season
Our spring sowing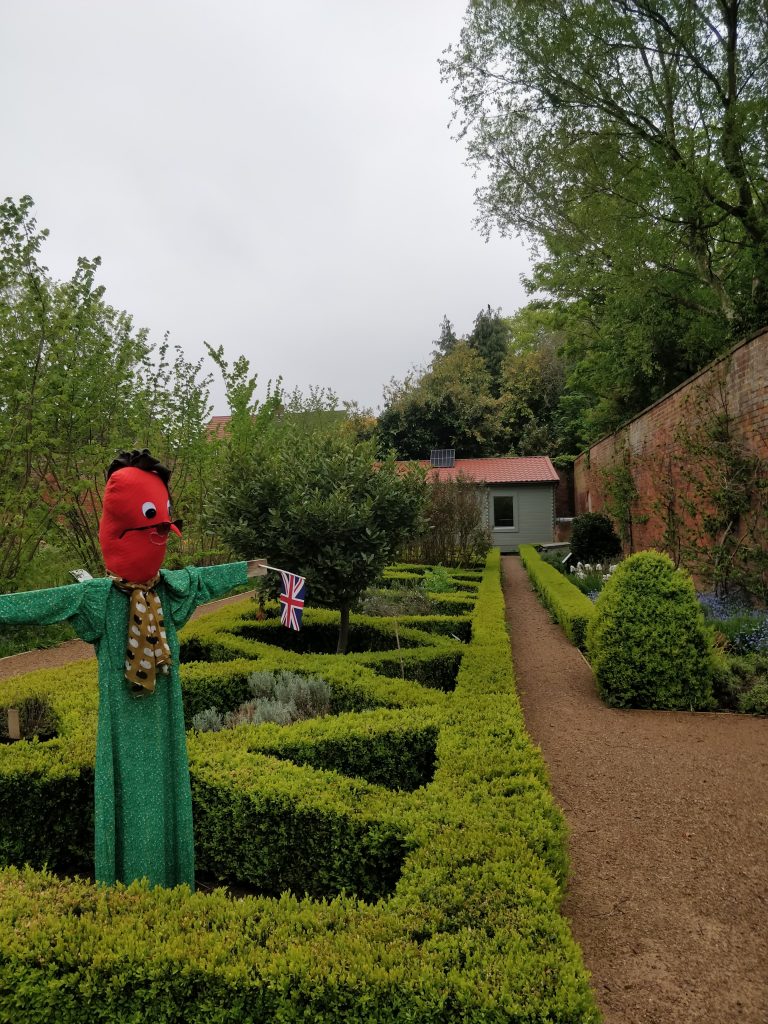 Scarecrow Theme
Great crafts from our member's effort
We have updated some spectacular features in the children play area. Don't forget to bring your youngsters to visit their favourite spot.
Bug Hotel and Wormery
Greens donated by Allesley Hall Nursing Home.
The wormery providing top quality compost and liquid fertiliser.
Harvest season
Some of our produces have been harvested and been displayed on the shelf by the entrance gate. Welcome to visit the Walled Garden and choose your favourite vegetables and plants. Any donations will be greatly appreciated.